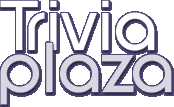 Disclaimer

Triviaplaza: © Peter Meindertsma 2001-2013.

Unauthorized copying, publication and distribution of the contents (designs, logo's, idea's, questions, graphics etc.) of this website is prohibited.

Even though much care and precaution have been taken to create this website, its creator(s) will be in no event liable for any kind of damage (Incl. computer, mental and commercial damage) caused by this website.

Privacy Statement:
Triviaplaza is not aimed at collecting and selling information from its visitors and will not deliberately do so.
Mind that average scores for the quizzes are added anonymously to the average of each quiz and used for comparison reasons only.



Another exception is the survey, which visitors can take voluntarily and anonymously. These survey results are not gathered or distributed by the owner(s) of this website. For information about the advertisements, see advertisement information.

Also, third-party advertising companies like Google serve ads when you visit this website. These companies may use information (not including your name, address, email address, or telephone number) about your visits to this and other websites in order to provide advertisements about goods and services of interest to you. If you would like more information about this practice and to know your choices about not having this information used by these companies, click here or visit this site.

For questions etc. about this disclaimer, send me an e-mail.